Breathe Easy. Live Freely.
Protect your loved ones from allergens and toxins. Work in peace and breathe with ease knowing the air around you is safe and healthy with InteliAQ envirointel – the world's most advanced indoor air quality sensor.
Contact Us for
Expert Solutions
Better Air Matters
InteliAQ tracks nine air quality factors that affect your health and well-being.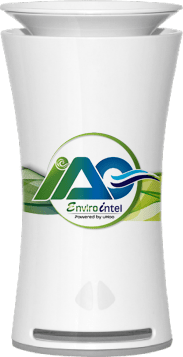 Temperature
Feel more comfortable and have a restful sleep
Particulate Matter
Prevent dust buildup before sensitive allergies and infections occur
Carbon Monoxide
Avoid fatigue, chest pain, and air poisoning
Humidity
Minimize moisture and prevent mold from forming
Nitrogen Dioxide
Learn when to keep roadside fumes from entering and what you can do about it
Ozone
Relieve throat irritation and learn which gadgets affect your health
Carbon Dioxide
Feel less nauseous and have a clearer mind
Airborne Chemicals / VOC
Know which chemicals and products to keep out
Air Pressure
Understand why arthritic pains and headaches happen
Get your InteliAQ now
Each product comes with 1-year warranty.
Free Shipping | Want InteliAQ for your business?
Contact: support@envirogroup.asia
Simply set up your sensor
InteliAQ continuously measures the air and fits seamlessly with your daily routine.
PLUG
Plug your InteliAQ to a power source

SYNC
Setup your InteliAQ with the InteliAQ
mobile app on iOS or Android
MONITOR
Easily track and monitor your
indoor air quality
Our Nine Sensors
InteliAQ provides you with the most advanced technology designed to help you make the right choices and improve your well-being. The nine air quality sensors use safety thresholds indicated by the EPA and WHO.
InteliAQ doesn't just tell you what's bad. It detects toxins and tells you the exact air quality parameters that are unhealthy all in real time. InteliAQ was built to empower you to take control of your indoor air and health so you can breathe with ease and live life freely.
Dashboard
Managing your properties and investments are easier with InteliAQ. Use the InteliAQ Dashboard to monitor your spaces anytime and multiple InteliAQ devices, analyze trends and obtain insights to proactively enhance productivity and your revenues.
Private WiFi network 802.11 @ 2.4Ghz b/g/n


---

Free InteliAQ mobile app on iOS or Android


---

iPhone with iOS 9 or later or Android phone with Android OS version 4.3 or higher


---

Power outlet


---
WiFi 802.11 b/g/n @ 2.4 GHz


---

Power Micro USB power adapter and 5V DC external power adapter


---

Material ABS


---

Security 128-bit AES encryption via SSL


---

Processor High-performance ARM-based


---

Platform Cloud-based with iOS and Android mobile applications
Dimensions 165 x 85 mm or 6.5 x 3.4 in
Weight 210 grams / 0.58 lbs