Enviro Integrated Facilities Management
Integrated Facilities Maintenance services including regular building maintenance are often required for areas that are considered out of the scope of a standard janitorial or custodial program. When handled internally by organisations, maintenance disruptions can cause loss of sales, decreased productivity, and add to labour costs. Let us carry the burden of your maintenance program for you.
Contact Us for
Expert Solutions
BENEFITS TO CLIENTS
Financial
Performance-Based Contract
Improve Asset Lifecycle Performance
Operational
Transfer of risk from the client organisation
Client focus fully on core business
Environmental
Corporate Statement of Sustainability
Hygiene, Disinfection and Protection
WORKING TOGETHER
Solid process, a commitment to quality & the environment across Malaysia to serve you. As a grass roots provider of Facility Services, Enviro IFM for a true partnership with each one of our customers, where customer satisfaction becomes the only true measure of our success
ENVIRO IFM PROGRAM
We have in-house technical expertise in indoor air quality, engineering, sustainability and environmental areas.
IFM + BS
Integrated Facilities Management (IFM) ensures that the building is in top condition along during its lifecycle.
Buildings Science (BS) contains indoor air quality and building efficiency.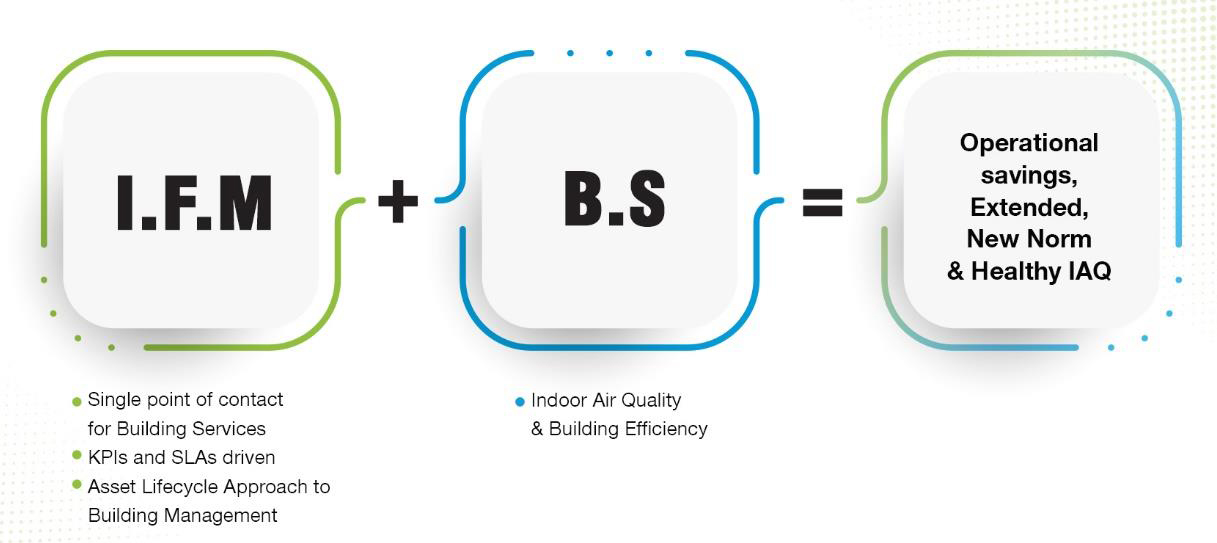 Emergency Preparedness Planning
Flood Management
Life Safety System Management
Mold Remediation
Civil
Plumbing
Repairing
Drainage
Electrical
HT/LV
Generators
Mechanical
HAVC
Chiller
CCTV
Panel Fire Fighting
Housekeeping
High- rise Cleaning & Restoration
Landscaping
Waste Management
Periodic Cleaning
Pre & Post-construction Cleaning
Pest Control
Building Automation System