Air Ducts are one of the key elements that interact in a building to yield the conditions of the indoor environment. Hidden from people's view, the maintenance of Air Ducts and Air Conditioning System is easily neglected, often resulting in various issues such as contamination of accumulated dust/ debris, compromised assets due to contamination build-up and deterioration of duct insulation.
Enviroverks (m) Sdn. Bhd. is one of the few companies in Malaysia with a NADCA (National Air Duct Cleaners Association) certification, ensuring that systems are professionally cleaned. We clean the complete air duct system as per the American standard ACR 2006.
We strictly adhere to NADCA and ACCA standards in carrying out procedural requirements for the assessment, decontamination & restoration of Air Ducts and Air Conditioning System. Our highly trained and certified professionals perform each remediation exercise to the highest standards using advanced techniques, tools, and equipment to achieve desired standards.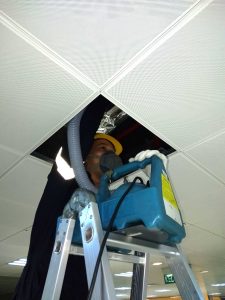 .                 
We also provide consultancies on the air duct system and air handling unit (AHU) to conduct regular cleaning and maintenance at least once every six months as stated in Industry Code of Practice on Indoor Air Quality 2010 published by the Department of Occupational Safety and Health (DOSH) Malaysia.
Contact Us for
Expert Solutions
Why Periodic Air Duct Cleaning Is Important
The air ducts which are hidden above the ceilings or behind walls are an important component that can affect the 'health' of a building. They act as lungs and circulation systems that maintain the ventilation and thermal comfort of the whole building which can have a direct impact on the health and productivity of individuals occupying the building. Thus, it is essential to understand the condition of these air ducts.
Air Ducts are contaminated with an accumulation of particulate matter

They become contaminated with construction debris or dust

It has been determined to be a source of unacceptable odors

They discharge visible dirt or debris into conditioned space

Air Duct performance is compromised due to contamination build-up & increase in energy cost

Deterioration of Fiber Glass Duct Liner, Duct Board or other porous components;

As part of an MVAC maintenance program as defined in ANSI.ASHRAE/ACCA Standard 180
Benefits Of Regular Duct Cleaning
Increase System Longevity – The air duct and air conditioning system is the most expensive mechanical system in your office and replacing it can cost thousands of dollars and tremendous aggravation. Annual inspections and regular maintenance can prolong the life cycle of the system by years.
Optimize Energy Efficiency – A typical duct system (component of the MVAC system) will lose 25% to 40% of the cooling energy put out by the system. Un-insulated, disconnected, torn, damaged or dead-end ducts are mainly responsible for that loss of energy. The cleanliness of the cooling coil system in the main air conditioning unit is another crucial factor to a building energy efficiency
Improve Indoor Air Quality – Wet portions of air duct systems are notorious breeding grounds for biological contaminants. Having the system reconditioned will remove allergens like dust, dander, microbial growth, and bacteria from the system and will in turn provide for a healthier indoor environment to live or work in.
Air Duct Cleaning (Tap to see Before After)