Why Is Indoor Air Quality Assessment Essential?
Indoor Air Quality has been one of the most overlooked factors to address health problems back in the day. But the recent events of Covid-19 have given rise to increased awareness amongst the public regarding the effects of poor indoor air quality. Monitoring the indoor air in a building or in an enclosed space can be the most effective way to deal with health problems that arise out of poor indoor air quality, such as Sick Building Syndrome (SBS), respiratory diseases, fatigue, nausea, and even lung cancer!
These health problems inevitably lead to discomfort, a slump in productivity, absenteeism and it may lead to serious health complications. Thus, it is important to monitor the air that we breathe, in order to effectively maintain the air quality and be healthy.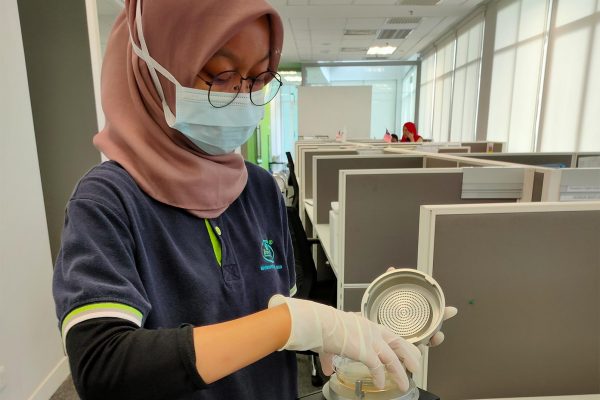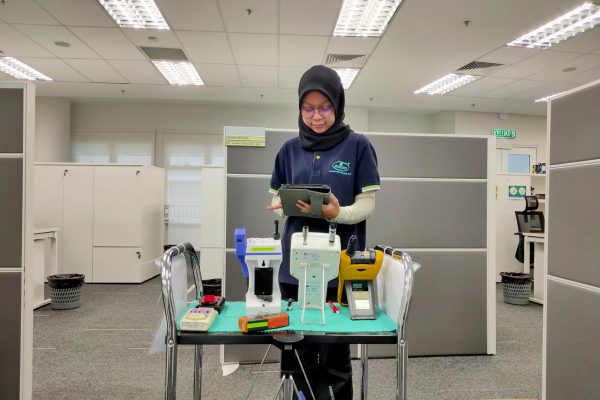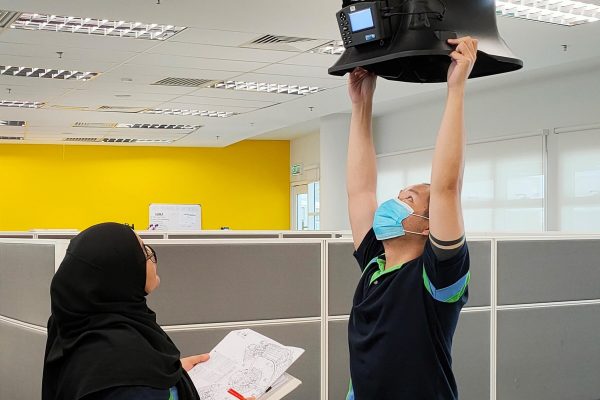 Main Indoor Air Quality Parameters & Effects Of Poor Indoor Air Quality
| | | | |
| --- | --- | --- | --- |
| PARAMETERS | ACCEPTABLE RANGE | HEALTH EFFECTS BELOW ACCEPTABLE LIMIT | HEALTH EFFECT ABOVE ACCEPTABLE LIMIT |
| AIR TEMPERATURE | 23° C – 26° C | Discomfort to their hands and feet, shivering, fatigue, and a decrease in performance and alertness. | Fatigue, irritability, headache, and decrease in performance and alertness. |
| RELATIVE HUMIDITY | 40% – 70% | Dry skin, sinus problem and chapped lips dry out the mucous membranes that defend against colds and flu and other respiratory diseases. | Elevate the likelihood of surface condensation and subsequent potential microbial growth. |
| AIR MOVEMENT | 0.15 m/s – 0.50 m/s | Restricts air movement, producing a "stuffy" sensation. | Draught and chilly. |
PARAMETERS
ACCEPTABLE LIMIT
POSSIBLE HEALTH EFFECTS
FORMALDEHYDE (CH2O)
< 0.10 ppm
• Irritant of eyes and respiratory tract
• Possible carcinogen
OZONE (O3)
< 0.05 ppm
• Irritant of eyes and mucous membrane
TOTAL VOLATILE ORGANIC COMPOUNDS (TVOCs)
< 3.00 ppm
• Irritant of eyes, nose and upper respiratory tract
• Headaches, nausea
CARBON MONOXIDE (CO)
< 10.0 ppm
• Headaches, dizziness, and nausea
• At moderate concentration, impaired vision, reduced brain function
RESPIRABLE PARTICULATES (PM10)
< 0.150 mg/m3
• Irritates throat, lungs and eyes
• Sneezing, coughing
• May cause aggravated respiratory diseases
PARAMETERS
ACCEPTABLE LIMIT
POSSIBLE HEALTH EFFECT
TOTAL BACTERIAL COUNT
< 500 cfu/m3
• Respiratory and allergic effects.
• Potential of disease transmission
TOTAL FUNGAL COUNT
< 1000 cfu/m3
Contact Us for
Expert Solutions
How Do We Perform A Comprehensive IAQ Assessment
Overall walkthrough inspection of the building/selected areas




---

Inspection of the Air Duct System and Mechanical Ventilating and Air Conditioning (MVAC) system




---

Surveying building occupants IAQ health risk by distributing a questionnaire




---

Conducting in-situ IAQ sampling, data collection, and testing




---

Laboratory testing for microbial contamination




---

Detailed reporting of the IAQ Assessment approved by an IAQ Assessor Registered with DOSH.
Indoor Air Quality (IAQ) Assessment Compliance
Our IAQ Assessment or Monitoring complies with the Industry Code of Practice on Indoor Air Quality 2010 published by the Department of Occupational Safety and Health (DOSH), Ministry of Human Resource, Malaysia.


---

As per compliance, our Indoor Air Quality Assessor is Registered with DOSH in providing accurate facts and assistance in terms of IAQ sampling, evaluation, interpretation of data, and recommending the appropriate solutions.


---

Compliance to the utmost IAQ standards and DOSH guidelines can be used as evidence of good practice in a court or health surveillance to ensure health and safety to the employees.